Hello, lovelies! I hope you all had a lovely Christmas and a Happy New Year, I've been spending all my spare time with friends and family so haven't had a chance to get much done, but took the time to photograph my presents, and once they're all done I'll pop up a little post. I've loved reading all of your Christmas posts, I'm so glad you were all spoiled rotten!
Here's one of my beauty-related gifts I received, the much-coveted Urban Decay 15th Anniversary Palette...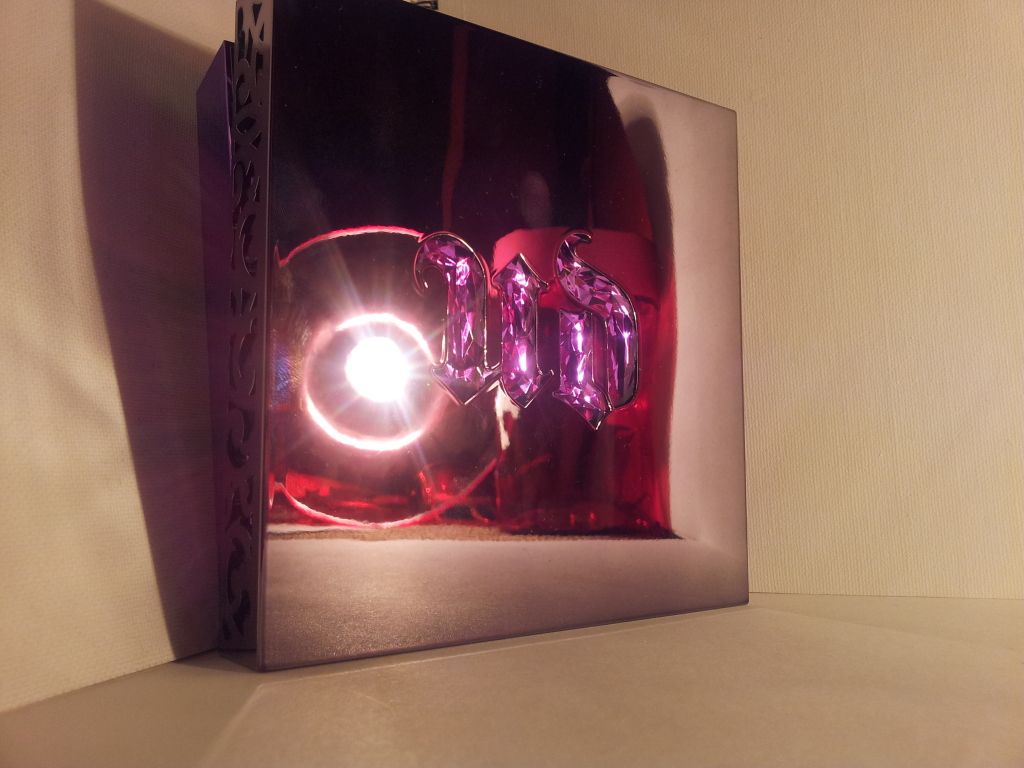 I properly squealed when I opened it! I know how hard these were to get a hold of when they first came out, and even though I'm not a massive palette fan, I'm still a Urban Decay fangirl at heart. I've just been looking at it in its lovely velvet-lined box, trying to put off taking it out and doing swatches, because it's just too damn pretty. But curiosity took over adoration, and I just had to go swatch-crazy and review each shade as I've found it.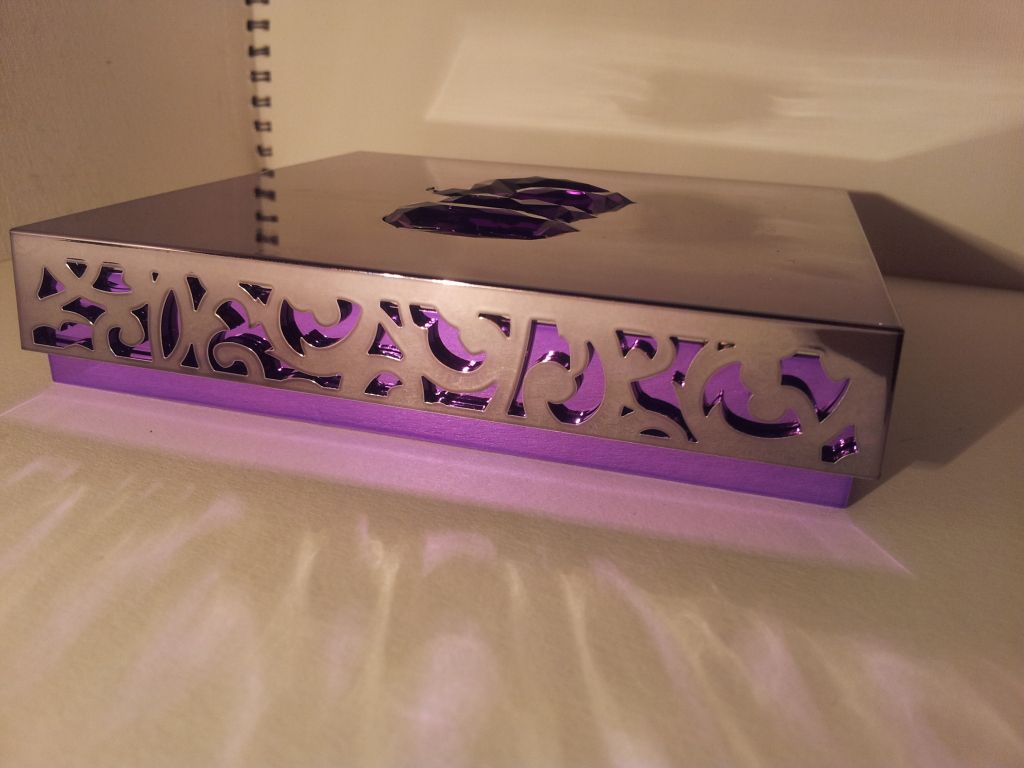 I love the packaging, first of all. Classic Urban Decay, with jewel decal and purple and dark shades - and this brocade pattern down the sides of the lids reminds me of HIM's album artwork from the earlier years (please tell me I'm not the only HIM fan still kicking about over the age of 12 and under the age of 45?) The inside of the lid is actually a mirror (quite handy for someone like me who doesn't have a small mirror to do eye make up on!), and the tray holding the shadows actually pops out to make a mini, pretty keepsake box. Very smooth, shiny, and surprisingly weighty.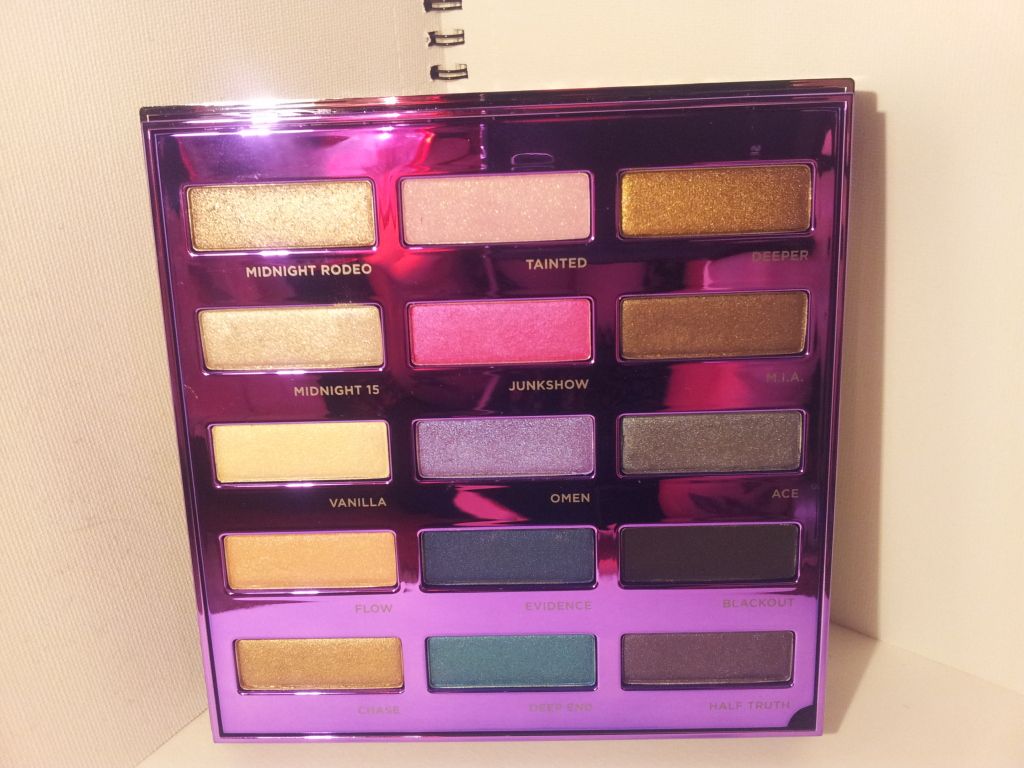 Please excuse the awful background - I used two sketch books slotted together to make a 'mini light box' and failed miserably as of course there are the ringbinders in shot...Damn you, winter, giving us shorter days!
There's a decent variety of shades, including the infamous M.I.A., Tainted, and Blackout. Omen looks really interested in pan, and I was really excited to see Deep End - a lovely, rich shimmery blue-teal colour, a shade I'm really starting to love and experiment with.
Onto some swatches now, working in vertical columns from left to right...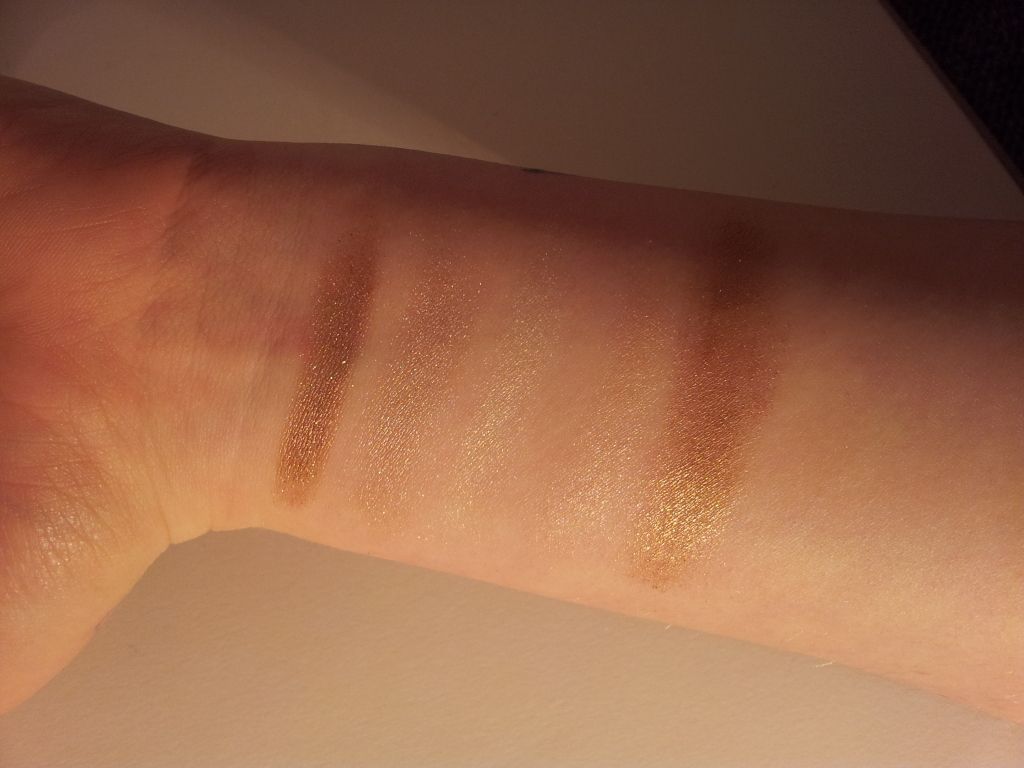 L-R; Midnight Rodeo, Midnight 15, Vanilla, Flow, Chase.
There isn't not a lot of pigment in these, they're very neutral and subtle. More shimmer than substance. I feel like that although Flow is a lot warmer than Vanilla, it's almost exactly the same shade, and as you can see, you can barely see them on the skin - but they make fab highlights, depending on the shades you're wearing. Midnight Rodeo is the most pigmented of these, it's a lovely coffee hue, and goes on so smoothly!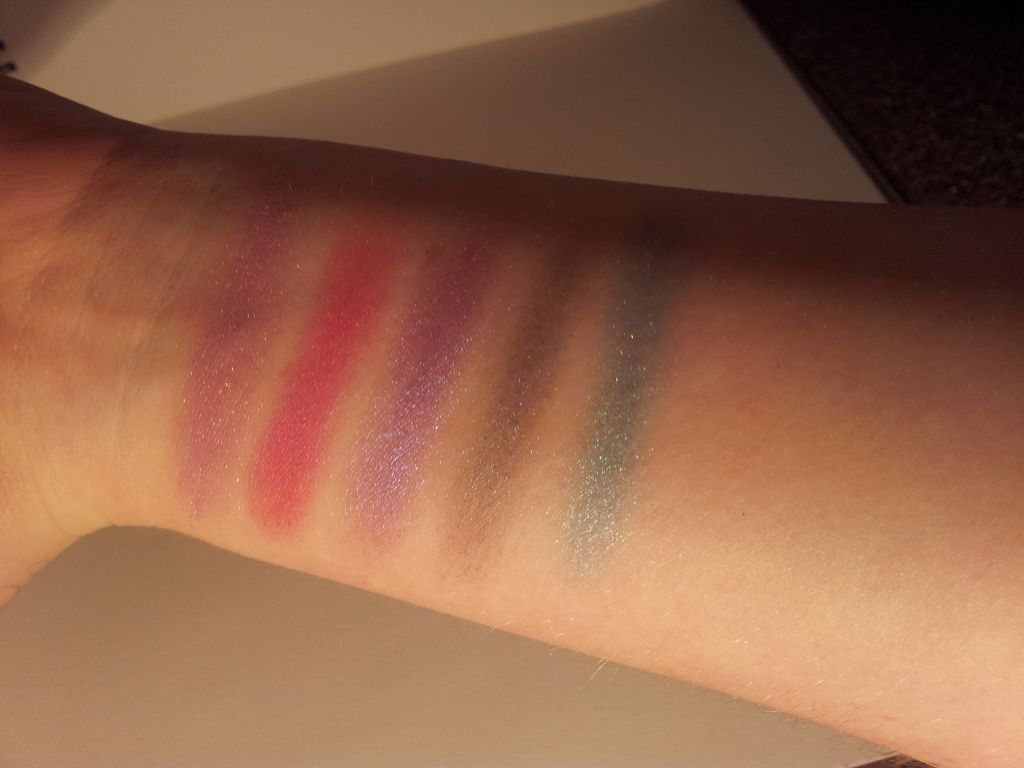 L-R: Tainted, Junkshow, Omen, Evidence, Deep End.
Lovely shimmers! So much sparkliness, incredibly difficult to wipe off in one swipe, but SO PRETTY. Very soft, but easy to build up, and I imagine mixing these with some of the shades above could make a really subtle yet colourful day-time look. It's a bit strange that Deep End isn't as peacock green as it was in pan, and Evidence is quite chalky at first but builds up nicely, and look at Junkshow, so bright! The only way I can describe it is Barbie Pink, and Omen is a lovely lilac with blue holo through it, look at how it catches the light - very nice, thumbs up from me!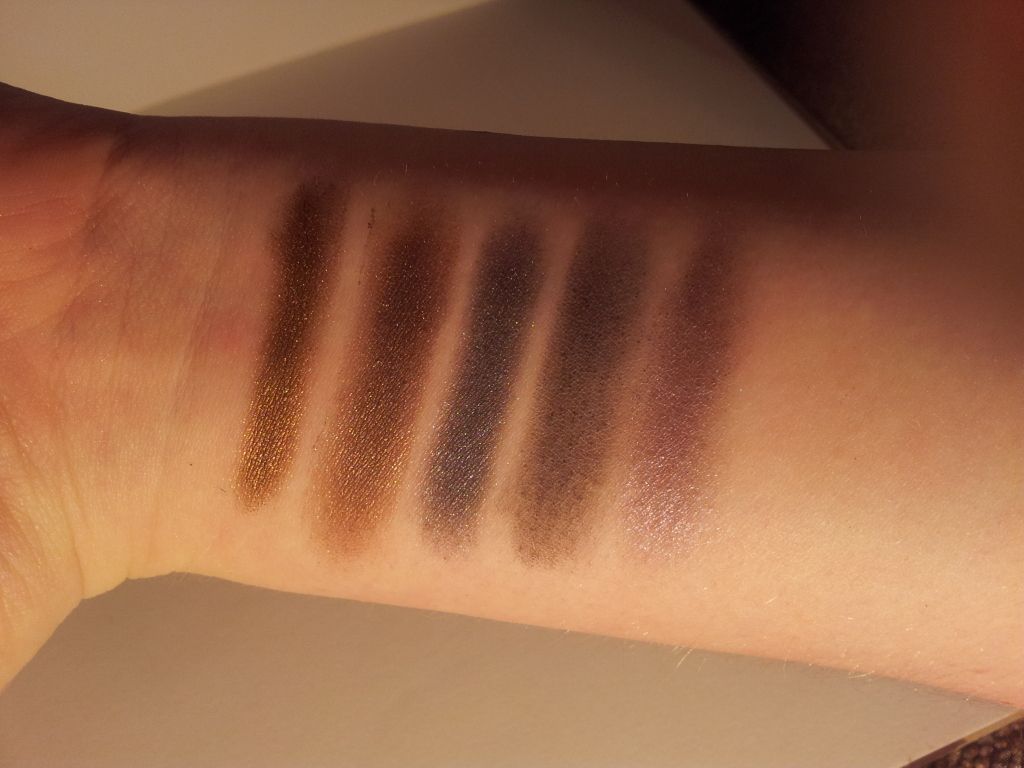 L-R; Deeper, M.I.A., Ace, Blackout, Half-Truth.
These are the shades I could see myself wearing a lot. Deeper is a stunning brown with gold shimmer, it's so heavily pigmented - that's from one swipe of the shade, and it goes on like a dream. I really like Ace as well, it's like a gun-metal grey with subtle blue and white shimmer through it...the only one I'm not so keen on is Blackout. It doesn't spread as nicely as the others, and takes a bit more layers to become thick and properly dark and smoky - I heard great things about it as well, but I'll make it work somehow! With a slightly wet brush it's practically like liquid eyeliner in how thick and black it goes, but I pat on a touch more with a dry brush to make it easier to blend.
Hopefully I'll be able to get over my fear of using expensive makeup, and use these to their full potential - absolutely stunning palette, really happy with it :)
Have you tried this palette before? What are your thoughts on it?