Why yes, I AM using my old blog name as a post title! In this case though, it is very apt. I've been on a bit of an eBay surge the past few weeks, and my findings have consisted of a Rilakkuma bear phone cover, tiny gems, a 99p cardigan (99p, PEOPLE. LESS THAN A POUND.) and the blouse featured. It's one of those pieces of clothing (everyone has one) where the second you put it on, you feel amazing. It's more daring than what I'd normally wear, and it fits like a dream. So of course I chose to wear that as well as a few other favourites, both old and new.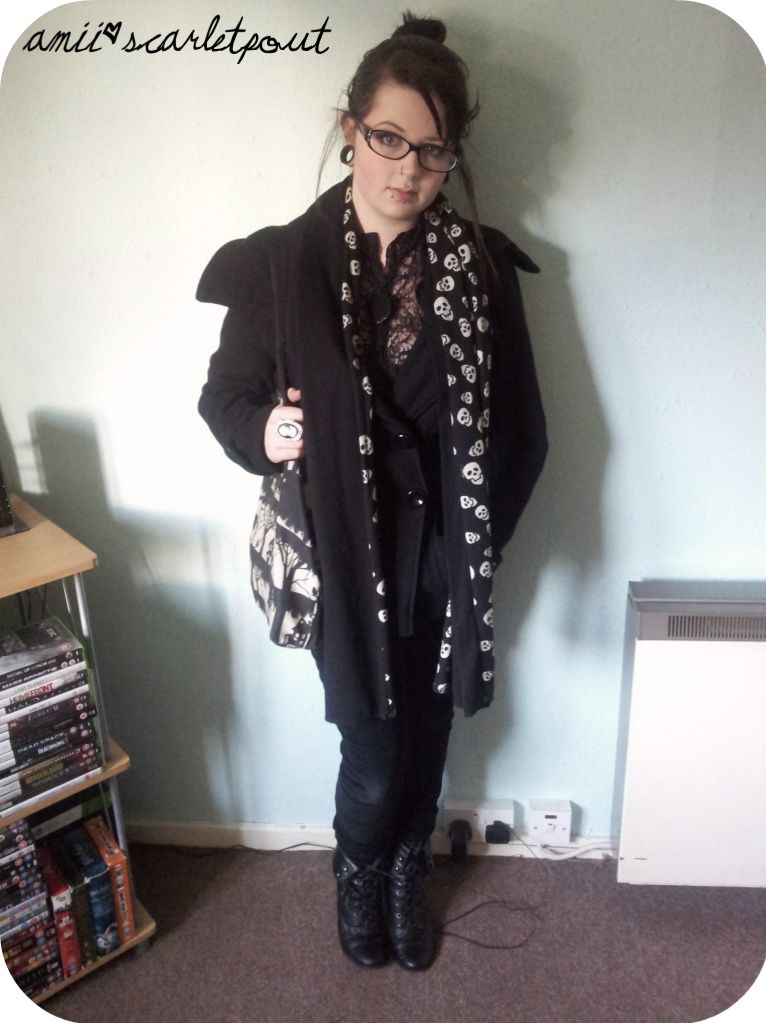 Blouse; £5, eBay (label says 'ASOS')
Vest; Primark
Jeans; Internacionale
Bow belt; New Look
Boots; Shoe Zone
Cameo ring; New Look
Necklace; Sweet Delirium Jewellery
Scarf; Xmas present
Haunted House bag; Charity shop (label says 'Topshop')
Buckfast bracelet; Bunny's Beads
Not only did I get to wear my favourite new outfit (EVER), I tried out contouring properly for the first time. I don't own bronzer, as on my skin it appears orange and awful, so I used a deep brown/pink eyeshadow from MUA, along with a very pale blush from ELF ('Innocent'). I took the darker shadow and filled in under my cheekbones and the hollows of my temples roughly, and popped the lighter shade on top of my cheeks, my forehead and down my nose, and then blended it to within an inch of its life - I'm so pleased with the result! I'm forever paranoid about my chubby little cheeks, and it feels nice to pretend they have a bit of definition! I think next time I'll try to teach myself how to contour under my jawline too :)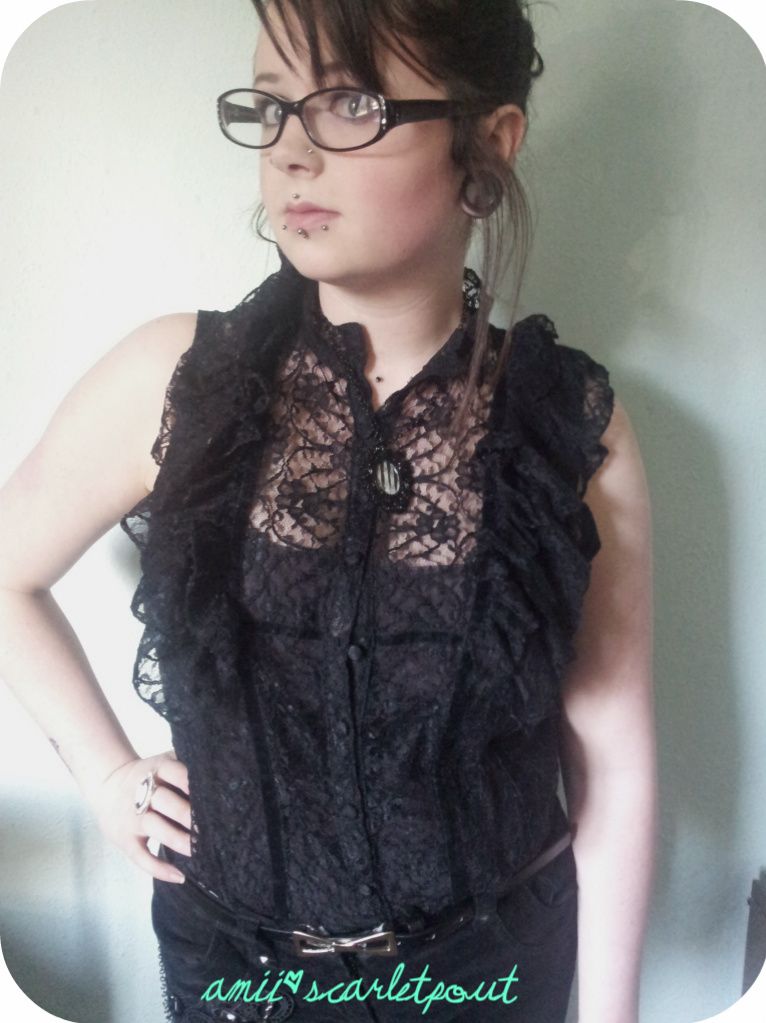 As it was a day of firsts, may I also add this is the first time I've ever worn a blouse in this style - high-necked AND sleeveless. And also the first time in ages that I've worn my hair in a high messy bun, because it's actually long enough to do! Yay!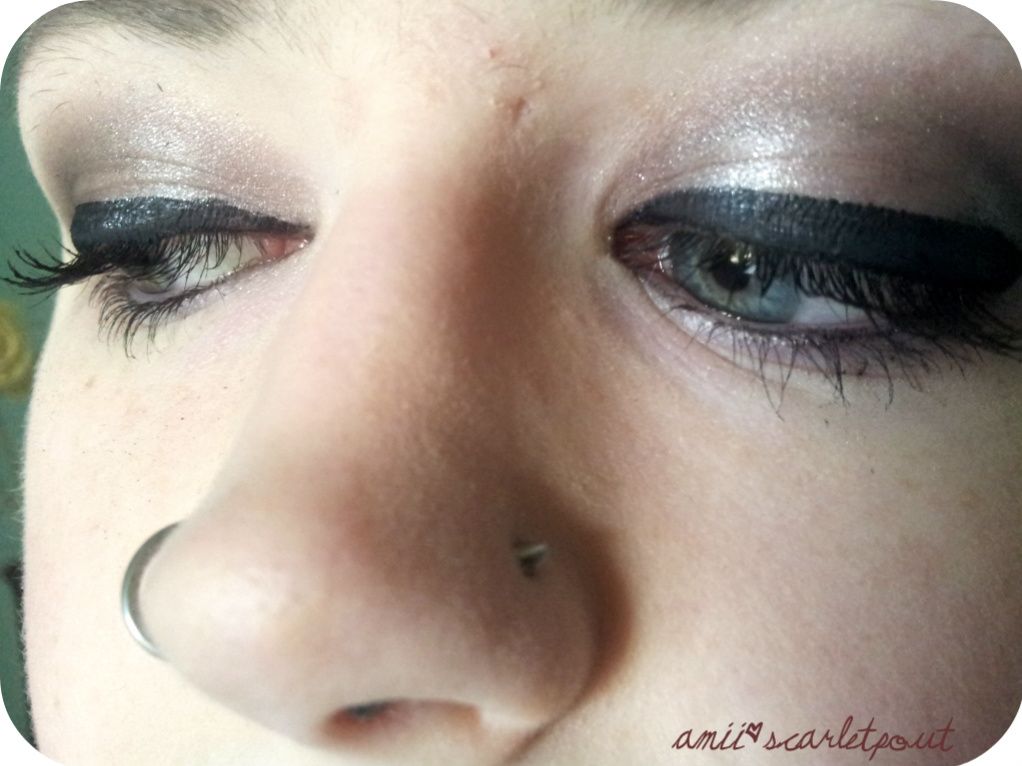 Benefit BabeCake brow kit (dry)
Collection 2000 liquid eyeliner, 'Black'
17 Va Va Va Voom Volume mascara
MUA eyeshadow shade 4
ELF eyelid primer
Black from ELF shadow compact
I know, I probably broke a whole lot of beauty rules by using the same shade I contoured with as my eyeshadow, but they look totally different combined with the other shades around them! I was kind of stumped as to what to put on my eyes. I felt like my usual cat-flick was just a bit too cutesy and girly for the look I ended up with, so I went for a thicker top lid, blunter at the ends, and a soft smokey eye, leaving the brows not as bold as normal, and a nude lip. Again, a day of firsts! :D
I'll leave you with this...today, I felt amazing. Properly confident and upbeat, and that doesn't normally happen. I felt pretty, cocky...sexy even! So I'll leave you with what must be the sexiest song in the universe to ever have been made. Trent Reznor, you depressing wee sod, we salute you for this, the sleaziest song ever.
Take care!
Amii
xoxo