I finally stopped whinging and moaning about my hair and done something about it...after a few months of research and preparing my hair, I took the first step to becoming ginger like
I deliberated about here
.
Preparing My Hair!
First off, I did my homework on ColourB4. I didn't want to go ahead and ruin my hair after spending ages getting it back to good condition, so I read reviews on the product, experiences, suggestions and advice on HairCrazy, and even the instruction booklet online. I trawled through hair forums, student groups, YahooAnswers... and I gleaned more information from these forum posts than what I did from the instructions, if I'm honest. After a while, I felt like I knew all there was to about ColourB4, and ended up figuring out a to-do list and information list:
All permanent hair colourants contain peroxide, even black, and this damages the hair beyond repair. It stains the hair cuticles so the colour will stick, so when this is stripped out it can turn out orange/brassy where it had been dyed.
You can apply it up to three times in one sitting (although personally this seems quite brutal on your hair, even though it promises not to damage it, it must do SOMETHING to it.)
FOLLOW THE INSTRUCTIONS TO A TEE. Nothing made me more annoyed than reading low reviews people had given when it went something like this: "Oh I used it and it was crap, my hair went orange and the rest of it didn't go any colour at all. I put it on but took it off after half an hour because it stank and it told me to rinse for ages - BOOORING." Ugh.
Don't re-colour your hair for at least a few days. Even then I'd probably leave it a few weeks, just to give your hair a rest! The reason this is advised is the product shrinks the hair colour molecules, which takes the colour out. If you were to put more dye on too soon, they'd just open right back up again and hey presto, you're back to where you started. Again, lots of people seemed to ignore this (see above point...again, ugh.)
Use a clarifying shampoo to remove build up: there are many hair products that contain silicone, and when you use straighteners or tongs that go above 230C they melt the silicates and they melt to your hair, and coat it with a shiny, plasticky molt. You know when the ends of your hair look really fake and shiny and frazzled? That's silicone damage. Eek!
The last point was the one that really caught my attention: I had no idea that there were silicone-based chemicals in hair products, and didn't know that they caused these kind of effects. So, being as curious as I am, I researched a little further. It turns out that it's just as bad as Sodium Lauryl Sulphates, which have a similar effect AND can damage your scalp - there aren't many popular brands that DON'T contain SLS or silicones - in fact, anything promising to make your hair extra shiny and add more volume are guaranteed to. So I decided to stay on the safe side, I clarified my hair...erm, by using washing up liquid. Haha! It worked though, one rise with that and then a bath of
Macadamia Healing Oil
left my hair incredibly soft and smooth. I done that for two weeks, and the only heat I used on it in that time was my straighteners, once, to tame the ends.
After taking good care of my hair, on Sunday night I went to my Mam's to use her shower, as we've only got a bath. This is what my hair looked like before I started...
...Strangely expressive eyebrows aside, this is the colour I started with. The clarifying treatments were stripping the black slowly but surely on their own, and red was beginning to shine through on the bottom. I kept it up in a hat all day that day (while chasing Brandon around Tesco while he was dressed as a Teletubby brandishing a cheesestring, but that's a whole other story.) hence the flat hair.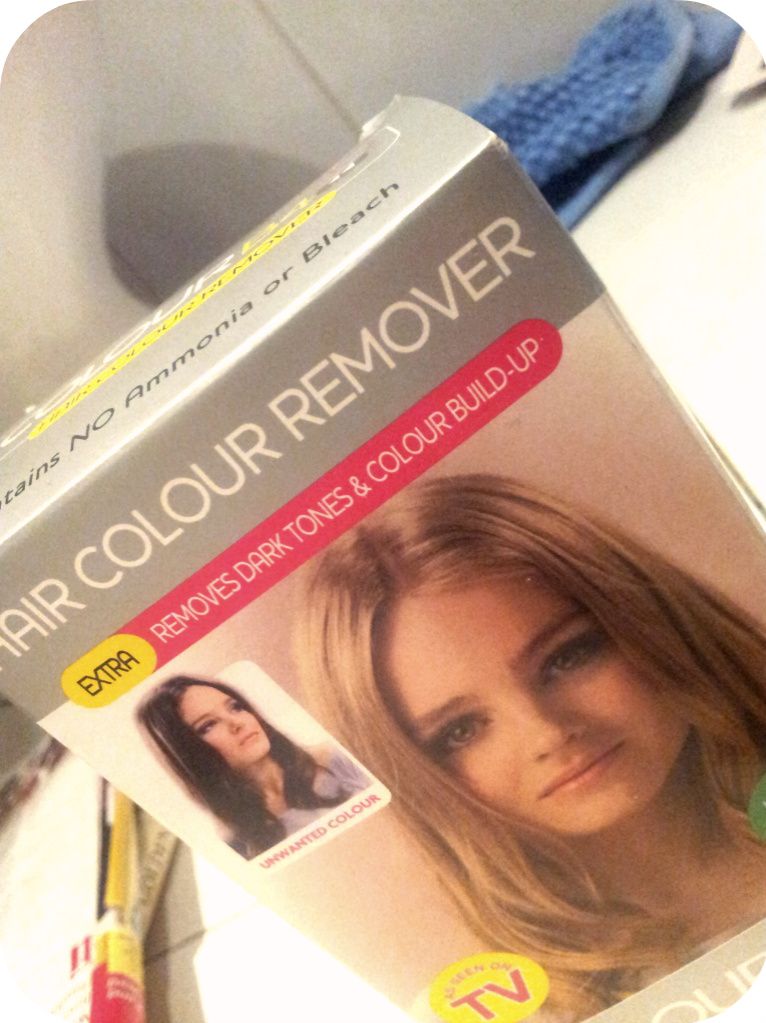 And here it is! I used the Extra Strength one.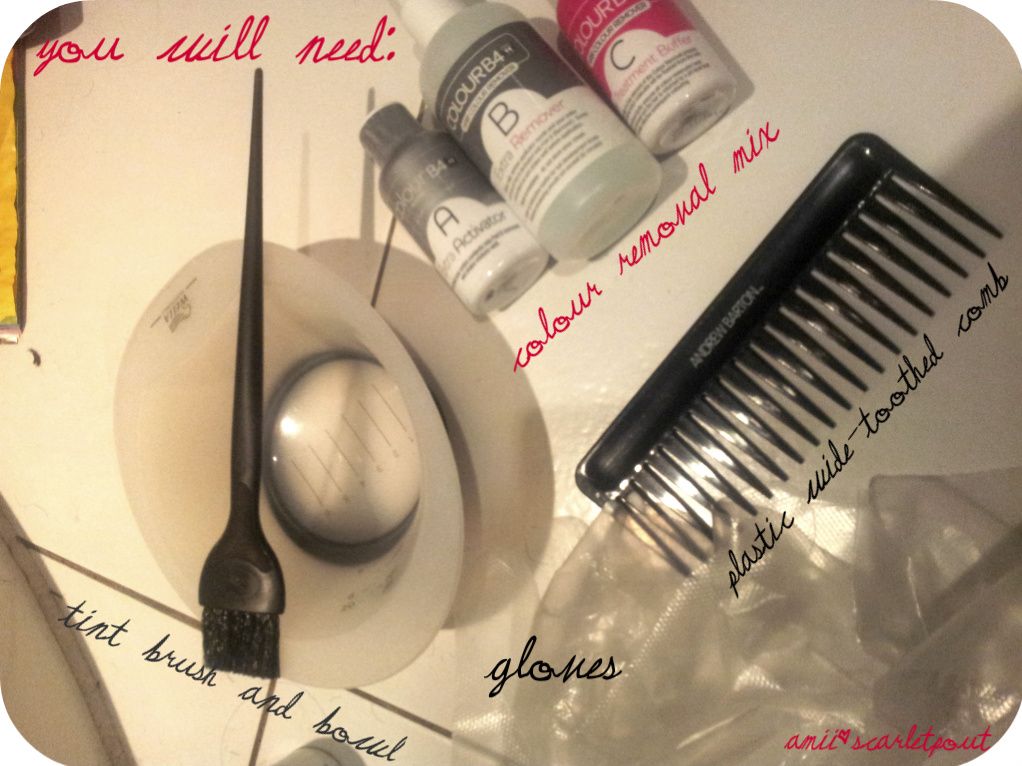 A list of everything I used, and three things I forgot to add: wear an old t-shirt, have a plastic hair clasp clipped to your top just in case, and have clingfilm at the ready with an old hat!
At this point my phone died, but I can talk through everything I did.
Pour part A into part B. Shake vigorously, and if you're using a tint brush and bowl like I did, squeeze it all into the bowl. Beware, it's really runny! And the reviews don't lie, it actually stinks like rotten eggs.
Don your plastic gloves, and part your hair. Apply it quickly and liberally - you do have to work quite rapidly, because like I said it's quite watery and drips very easily...
Concentrate more on your ends, as these are furthest from your head, so won't develop as fast in the air as your roots will.
Work upwards through your hair, using another mirror if possible to make sure you've covered the back of your head well! Once your ends are coated, you can work more on the rest of your hair. Massage into your hair (preferrably NOT your scalp, like you're rubbing in shampoo!) and be sure to have an even coverage, by using the wide-toothed comb.
Once applied, your hair will be coated, and you can comb it up onto your head. Wrap with clingfilm (or even a plastic bag, just flatten it to your head to get rid of trapped air) and secure with the clip at the nape of your neck. Then, pop on the old hat you have. This will help your head heat up and let the mixture develop better!
At this point, I pottered about for an hour: had some dinner, watched the TV, and ended up nearly going over an hour by watching The Land Before Time and getting swept up with old memories...oops!
The instructions are VERY specific on the buffering part, the bottle marked C. Rinse your hair for five minutes, then add half the bottle to your head and lather up well, then rinse for ten minutes. It doesn't seem a long time at first, until you check the timer and see that it's only been two minutes. Once you've done that, you have to do it again, for another ten minutes. Just as well it wasn't my hot water I was wasting! I found it easier just to actually get into the shower rather than hold my head over the bath.
No shampooing, no conditioning, nothing else is to be done to your hair after this. I was a bit nervous actually, my hair felt very squeaky - I know that's a strange way to explain it, but it felt a bit rubbery and odd! I couldn't see any difference in colour at that point, so I blowdried my hair... and ta-daaa!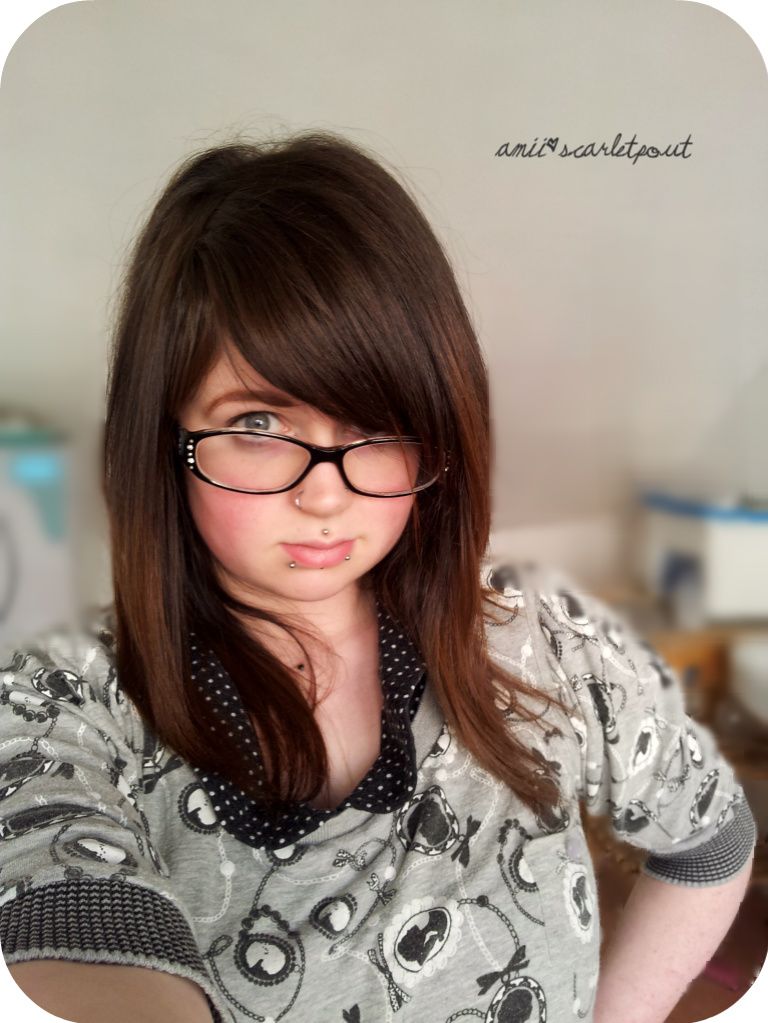 Soft brown hair, with blonde tips from where it had been bleached before. Yay! It's not ridiculously light, only a few shades above my old colour, but significantly so that I have had to move to the brown liner in my BabeCake brow kit!
Pro's
If used properly, it gets rid of colour build up and unwanted hair-colourant
It doesn't damage the hair, unlike bleach
Reasonably priced (retails between £9-£13 depending where you buy it)
Con's
IT STINKS. So bad. But not so bad that I would consider this seriously important...
It's a bit complicated to understand, and things I felt were quite important to know weren't really covered in the instructional booklet (like the clarifying thing)
The rinsing takes ages, and the whole process can take up to two hours, from application to rinsing.
So, an even keel there, but I'm very happy with the results! I'd happily recommend it, as long as you follow the instructions exactly...I meant to mention, I only needed the one bottle, which is quite unusual as my hair is so thick I normally need two bottles of anything, but there is so much product in a pack that I only used the one.
My hair is soft, has no blotchy patches, and is one step closer to becoming GINGER. :)
Love, Amii
xoxo

DISCLAIMER; This product was sent to me for review purposes. As usual, this does not effect my opinions on the product. My reviews are always honest, whether I have bought a product myself with my own money or it has been given to me for this purpose.