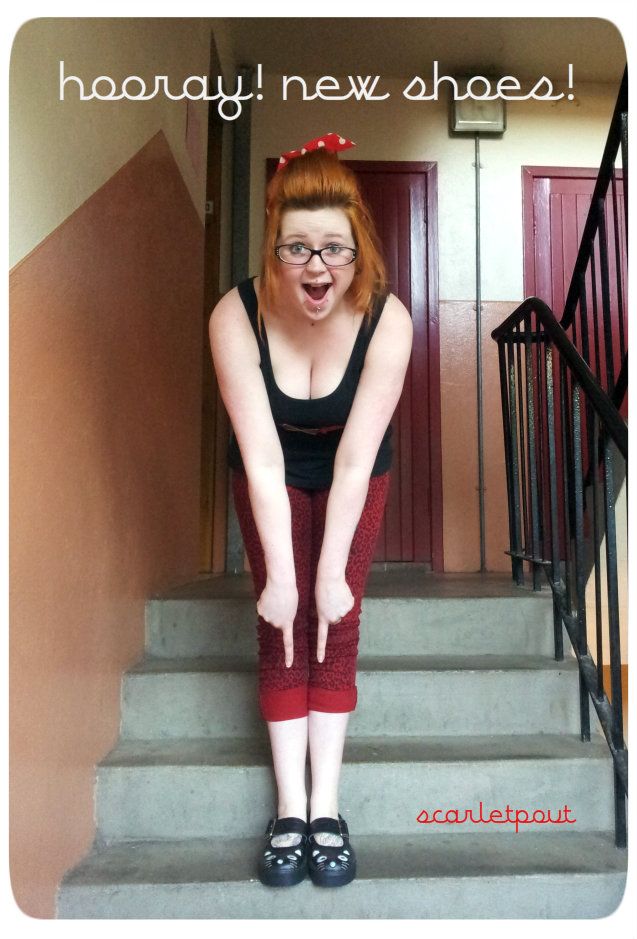 Two words.
Anyone who knows me in the slightest, knows I'm a massive cat lady. I'm that person who stops to give them a cuddle if they're sunbathing on the pavement, or gives them a wee scratch behind the ear if they're on the wall as I'm walking past. So these shoes are something I've been coveting for a long, long time. Kitty face? Mary-jane style? Creeper soles? Made by TUK? They're a combination of lots of things I adore. So after constantly losing out to evil last-second bidders on ebay, and being too skint to justify paying full price for them (
£50!!! Seriously!!!
) I finally won a pair for under £15 a few weeks ago...and when I got home to find the parcel, you bet I threw my old skate shoes aside and pranced around in them doing housework for the rest of the night. Not before taking outfit photos though!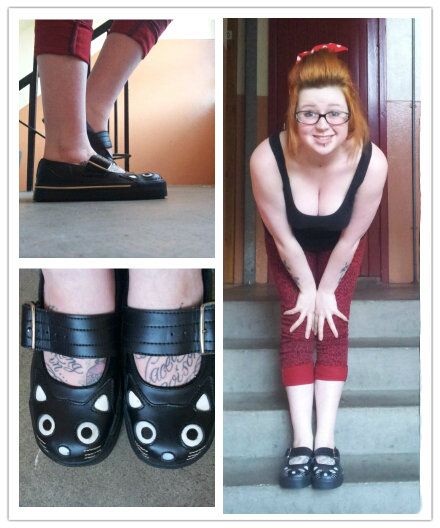 Red belt; New Look
Black vest top; Primark
Red leopard print skinnies; Mercy Clothing (rolled up into 3/4 lengths)
Spotty bandana; Internacionale
TUK kitty shoes; eBay
Hand octopus; as if by magic
I wore them to work the next day, and they were so incredibly comfortable - I lasted all day running around the studio and serving customers, although I will admit I suffered a major case of the Schweaty Feet-o's after sunbathing out on the Shoap Wall for a while...bringing me to my next point.
The freaking weather.
Scotland's summer has finally arrived, and the whole country has went ballistic. I didn't think that many people lived in my home town, until I saw what seemed to be the whole population of them flooding the high street (more than I really wanted to see if I'm honest; I'm looking at you, elderly neighbor who deems it necessary to cut the grass topless. Your mushroom nipples are giving me nightmares.)
I've also seen so much sore sunburn it's unbelievable. My sister didn't have any baby oil, so proceeded to slather herself in cooking oil in her desperation for a tan, and is now burnt to a crisp. I'm not about to lecture anyone on their SPF usage (although you are currently reading the blog of a religious applier of factor 50), but I do have some top advice for you!
Aloe vera is fantastic for sunburn. Seriously, head to your local Holland & Barretts and get yourself a tube of this stuff - not only does it instantly soothe, it keeps it nice and cool, and it has antiseptic properties to stop it from getting worse. If you're on holiday in a hot place, keep your peepers peeled for a spiky plant with lots of triangular, thick leaves and break one off sneakily, and spread the oil on your poor wee burnt shoulders. Instant relief!

Protect your tattoos from the sun. What, you think I'd get through a whole post without mentioning tattoos? Nonsense. In this case though, it's something I see every single day - faded tattoos, that have bled out and lost their colour, and look sad, sorry and blue (sometimes literally blue). This is sun damage, and you can help prevent it. Apply a minimum of factor30 to your healed tattoos (you can of course apply a lower spf to the rest of you, if you really want to...) to protect it from sun damage. This will keep them crisp, bright and clear for years to come. My boss's 1/2 sleeves are almost older than me, and they still look like they've been done 6months ago!

Keep hydrated and make sure you have regular meals. I know I'm quite bad for not eating much when it's warm, and all I want is fruit, noodles or pizza. I'll even forget to drink water - but this could lead to serious dehydration, and low blood sugar levels, making you prone to fainting or being sick. Check yo'self, etc etc.

DO NOT CUT YOUR GRASS NAKED. Especially if you're male. What I read involving an unfortunate man and how he lost an argument with a strimmer is making my phantom penis want to curl up and hide from grass cutting appliances and my bad temper.
As it's been so lovely, we all got dressed up (or dressed down, whichever way you look at it) for Zara and Kriss's flat party at the weekend. We don't all get the chance to get together these days as everyone is working weird shifts, so it was great to see everyone in the same room for the first time in over three months! I wore a red lacy top, my sparkly lacy H&M shorts from
this haul post
, the tights from my previous OOTD, and my Docs. I had a bronze smoky eye going on (thankyou
Urban Decay palette
!) with bold brows and nude lips, teamed with a massive orange beehive. As per usual, I rushed myself and got no photos. And as per usual, there's a reason I don't have many classy photos from the party...
...because we don't do 'classy' when it comes to parties. To sum up the night, I got given a lapdance again by Sarah, we sang old mosher tunes all night, slapped poor Gav's sunburned shoulders till he nearly turned purple, played Motherfucker (the best and worst drinking/card game in the world), and I somehow ended up Zara's loft unable to get down. Oh, and vodka jelly shots - nothing more needs to be said about that, I think...
All in all it's been a good week. I have some reviews ready to be posted this week instead of constant OOTD's, and I'm possibly retiring one of my centre labrets and both side ones. All for a good cause though - after spending a long time weighing up the pros and cons, and working out whether I'd be up for the long healing process, I'm getting my cheeks pierced!
For now though, I'll leave you all a picture from the weekend that doesn't involve debauchery - me and my newest little family member, my cousin Shauni's gorgeous daughter Laila :)
Lots of love,
Amii
xoxo
ps; this was my first time attempting a photo collage - I feel like posting like 6 different photos just makes outfit posts unneccessarily long. What do you guys think?