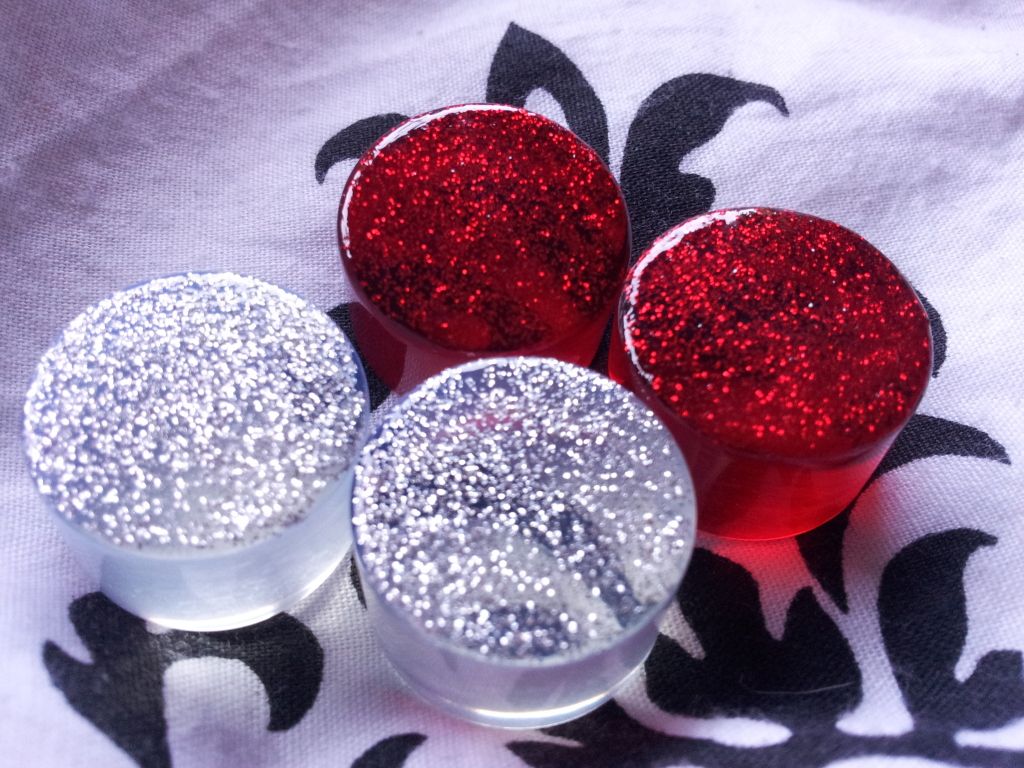 Goodbye plain old plugs, hello glittery ones...!
This week has felt like it's dragged on and on for some reason - it doesn't help that it's been absolutely horrible outside. Though the sun came out today, that's been the best weather we've had in months! I don't have many photos to upload as I've been busy at work and haven't had time for capturing snapshots, and Brandon hasn't been very wel so when I do get home I just cuddle into him. As for what I have, enjoy...
We found these in B&M (which is normally amazing, but the new one that's opened up nearby is tiny, therefore defeating the purpose of a 'mega store'...) and they now reside on our livingroom wall :) I love the look of rooms filled with lots of pictures, wall hangings, canvases etc :)


This photo was taken two years ago today....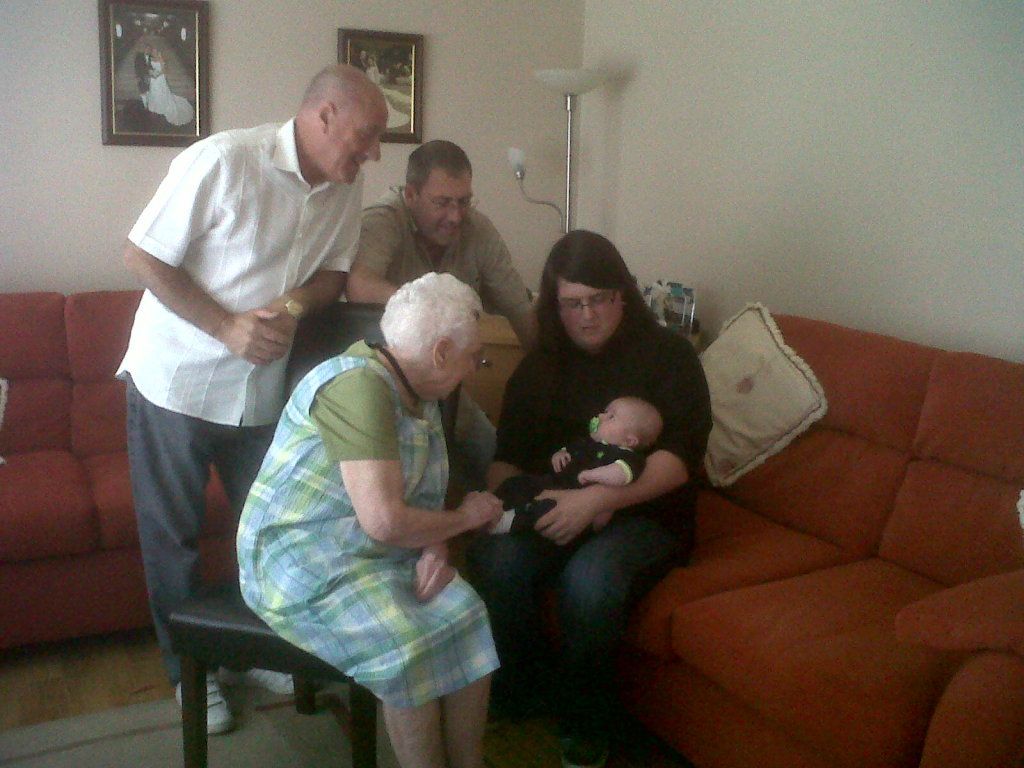 And today, we are also remembering Andrew's great gran Beatrice, his Big Nana. This photo is five generations of the Muir family: (clockwise from Beatrice) Big Nana (Andrew's great-gran, B's great great gran!), Brian (Andrew's Papa, Brandon's Big Papa), Richard (Andrew's dad, Brandon's Papa), Andrew (Daddy!), and of course, the boy himself, tiny at two months old. Beatrice was an amazing woman, proud until the end - when we were taking these photos, she told Andrew 'Right, okay, my turn.' And at 96 years old, plucked B out of his arms and held him, refusing to be steadied or told to sit down! She sadly passed away in December 2010, but we're all happy that she at least got to meet her great-great grandson :)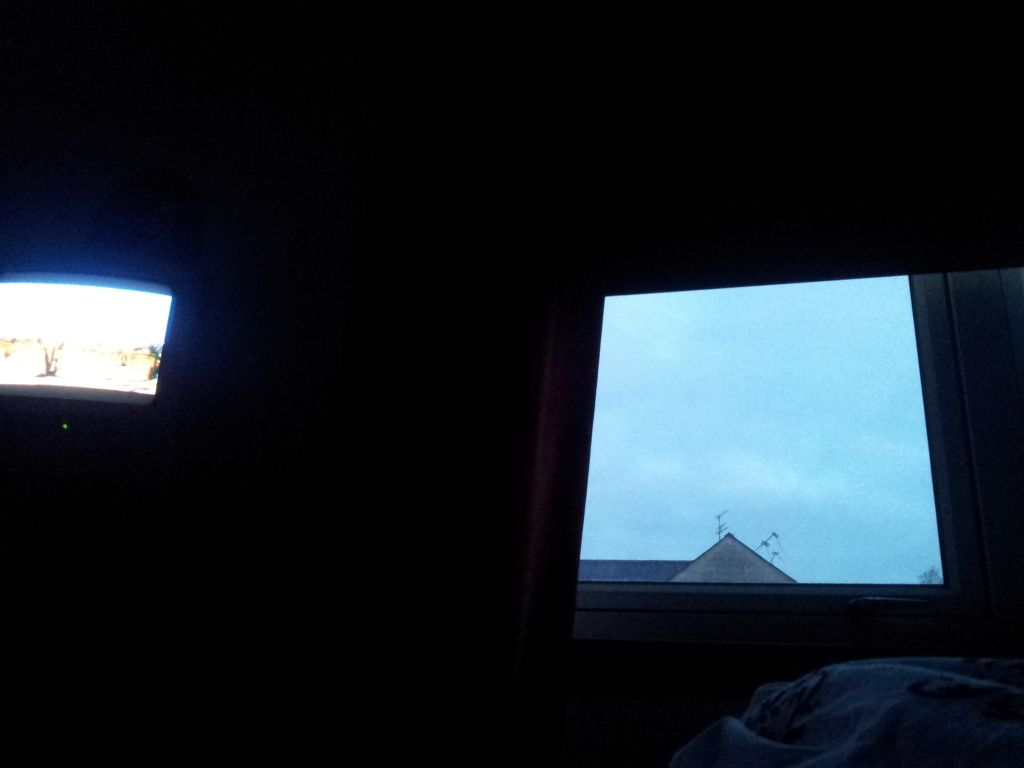 My incredibly considerate and sweet downstairs neighbors came in at 10 o'clock last night from celebrating the footie results, they were so quiet I couldn't even hear their dogs running up and down the hall. They of course kept their 'bangin choonz' down very low, and they closed the doors very, very quietly, so of course it's my own fault that I was up until 4.30am this morning! And one of them definitely didn't spew all over the front path...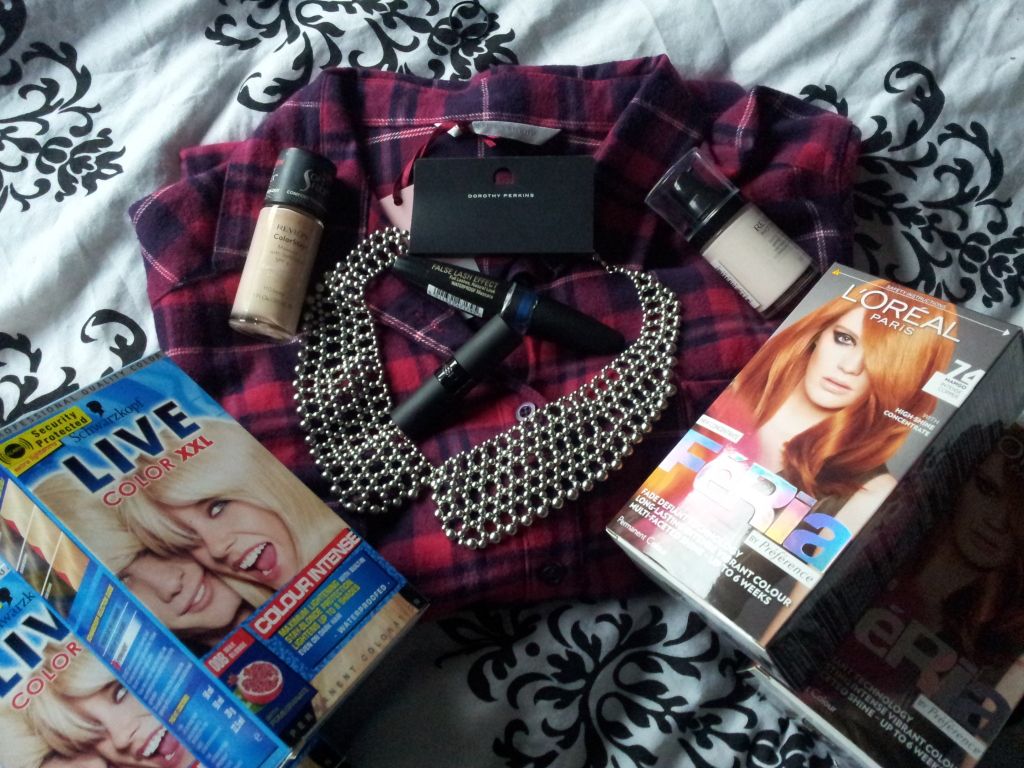 Andrew gave me back some money I loaned him until his bursary came though, and I got it back - SHOPPIIIIIING! Pre-lightener and hairdye for doing my extensions and roots, a beaded peter pan collar necklace, a £2 check shirt that I'm going to alter so it fits nicely and has puffed sleeves, and new make up: Revlon ColourStay foundation, Revlon Photoready Primer, Max Factor False Lash Effect mascara (the best EVER in my opinion!) and I'm trying out a new shade of lippie: it's a very pale pink, to go with the ginger hair. Exciting!
So all in all, a busy but looong week. I got some outfit pictures taken today, and I went to see the Avengers last night - Andrew and I are giving it another go (hooray!) and we had our first 'date night' in over a year :) I think that's where things got difficult between us - we didn't have any time alone, and by the time Brandon was in bed we were too crabby from work (me) or from looking after Brandon and cleaning the house (him) to actually enjoy any time together. But here's round two, and I really want to make this work :)
Love,
Amii
xoxo
ps; THOR. CAPTAIN AMERICA. IN THE SAME FILM. LOINS CANNOT TAKE IT.